The old adage that travelling costs loads of money is extremely outdated, especially in Europe. Innovative companies have taken advantage of the internet phenomenon and nowadays your average Jane or Joe can book their whole trip via their mobile device or laptop.
Price comparison websites have replaced travel agents and the emergence of low-fare airlines and buses have greatly reduced the cost of travel in Europe. Furthermore, companies operating in the 'sharing' economy are now providing cheaper and in some cases free accommodation, meals and journeys.
How have I taken advantage of this new sort of 'eTravel'?
Skyscanner
Living in Ireland, the only way to travel to Europe is by flying or ferry. The ferry takes too long so flying is the option for me. I discovered the flight comparison website Skyscanner  about two years ago and since then have been searching for potential flights and trips using its user-friendly website.
Fly to 'Everywhere'
There is a fantastic feature on the flight search which allows you to search for flights from one place to 'Everywhere'. Your search results come up as a list of countries with prices displayed. In the picture below you can see that there are flights from as little as €10 to the UK from Dublin.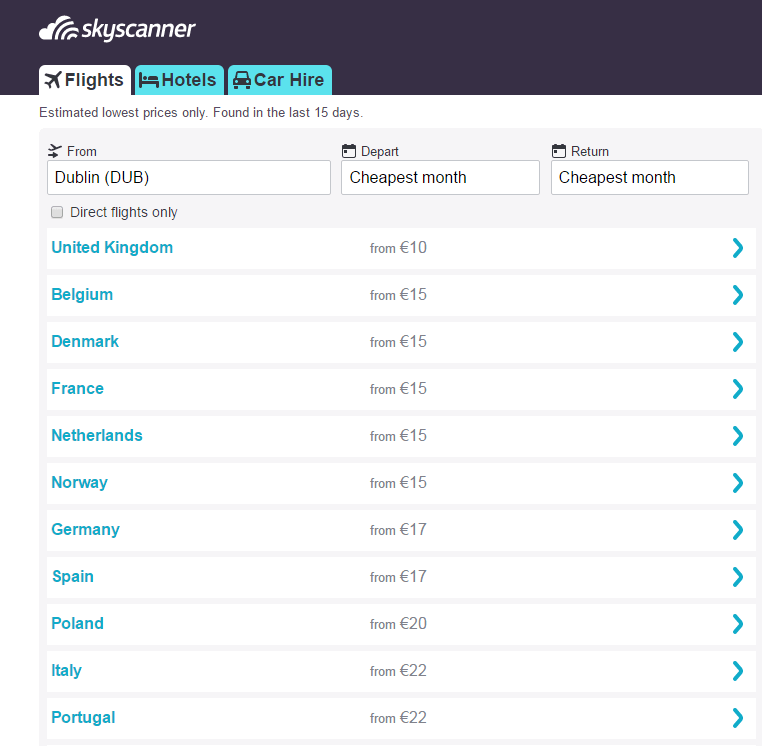 On most short-haul flights, there is little to no difference between booking two single flights to and from the same location versus booking a return flight. I took this into account as I want to see as much of Europe as possible on this trip.
I started using this method but soon ran into a few expensive (€30+) flights to get to some tricky destinations. Getting to Cyprus can be expensive from most places so I had to devise another method of searching.
'Reverse-Searching'
This new method was 'reverse-searching' on various airports. Let me explain…
I would choose a destination (Cyprus) and search for Cyprus to 'Everywhere' to see which airports are cheapest to fly to from Cyprus, going on the premise that if it's cheap to fly to somewhere (Athens) from Cyprus then it must also be cheap to fly from Athens to Cyprus.
So now I needed to get to Athens. Again I 'reverse-searched' – searching for Athens to 'Everywhere' and the process was repeated multiple times until I was eventually satisfied with my trip and especially with the price.


For some of my shortish inter-city journeys a flight wasn't the best option. For example, going from Vienna to Prague or Gdansk to Warsaw. For these legs of the journey I'm going to try the fairly new concept of carpooling – something that I've wanted to try for a while. This involves getting a lift with a stranger and giving them a predetermined contribution towards the cost of the journey.
I think that this is a really cool way to travel as you get to meet and travel with someone that is willing to meet new people and share their car and journey with you.
One great feature of Blablacar is that there is a peer review and rating system similar to that of Airbnb and various other 'sharing' economy companies. Profiles can be linked to Facebook and recently an ID verification process has come into play all in an effort to increase user safety and peace of mind.
Check out my trip here