[youtube https://www.youtube.com/watch?v=6LmsXHzTjnc&w=560&h=315]
'Beg Borrow Steal – All Roads Lead to Rome' was a fundraiser event for Movember Ireland which saw 110 university students race across Europe from their Dublin City University campus to the Trevi Fountain in Rome via 2 mystery checkpoints in Europe. Each team had to fundraise money for the cancer research charity before the event. In total, the event raised €30,000. Here's a story of how two friends managed to visit 5 cities, travel 3,000kms, create thousands of smiles and contribute towards cancer research in 26 hours, without opening their wallets.
On a personal development level the aim of the event is to get students out of their comfort zones and to experience the kindness of strangers. Teams rely solely on the generosity of others to assist them on their journey. On the 2nd of February 55 pairs of students set off on this adventure. Numbers cannot do this adventure justice but stories certainly can. Here is ours…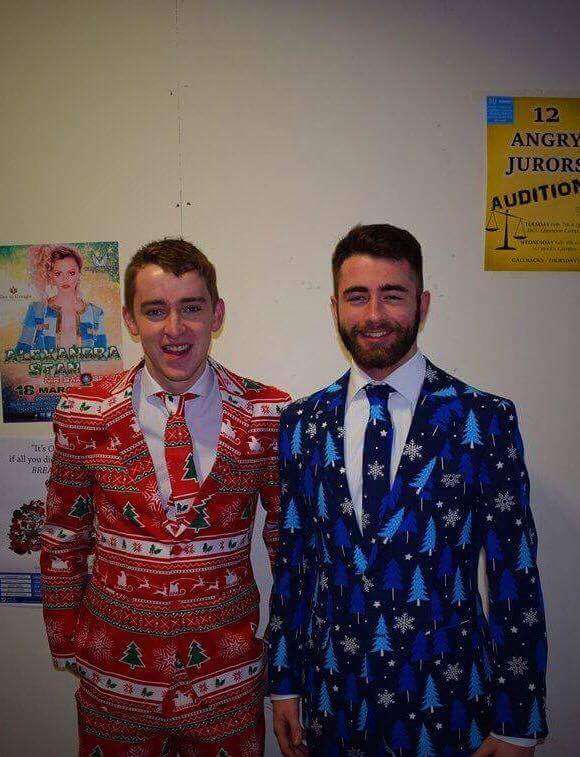 The day before the event Brendan and I did a trial run in a local shopping centre. We dressed up in audacious Christmas suits and strolled around the centre chatting to workers and shoppers informing them of our quest. In two hectic hours we had raised almost 500e worth of products and cash and had learned key lessons that would prove to be invaluable along our journey.
Asking is the best way to get what you want.
The suits are the catalyst for attracting attention (which is a currency these days).
Senior staff are the people to ask.
Most people are delighted to break free from their monotonous habitual routine.
Before the event had officially started we knew we had a successful blueprint that we could translate to the continent, as the haul below demonstrates.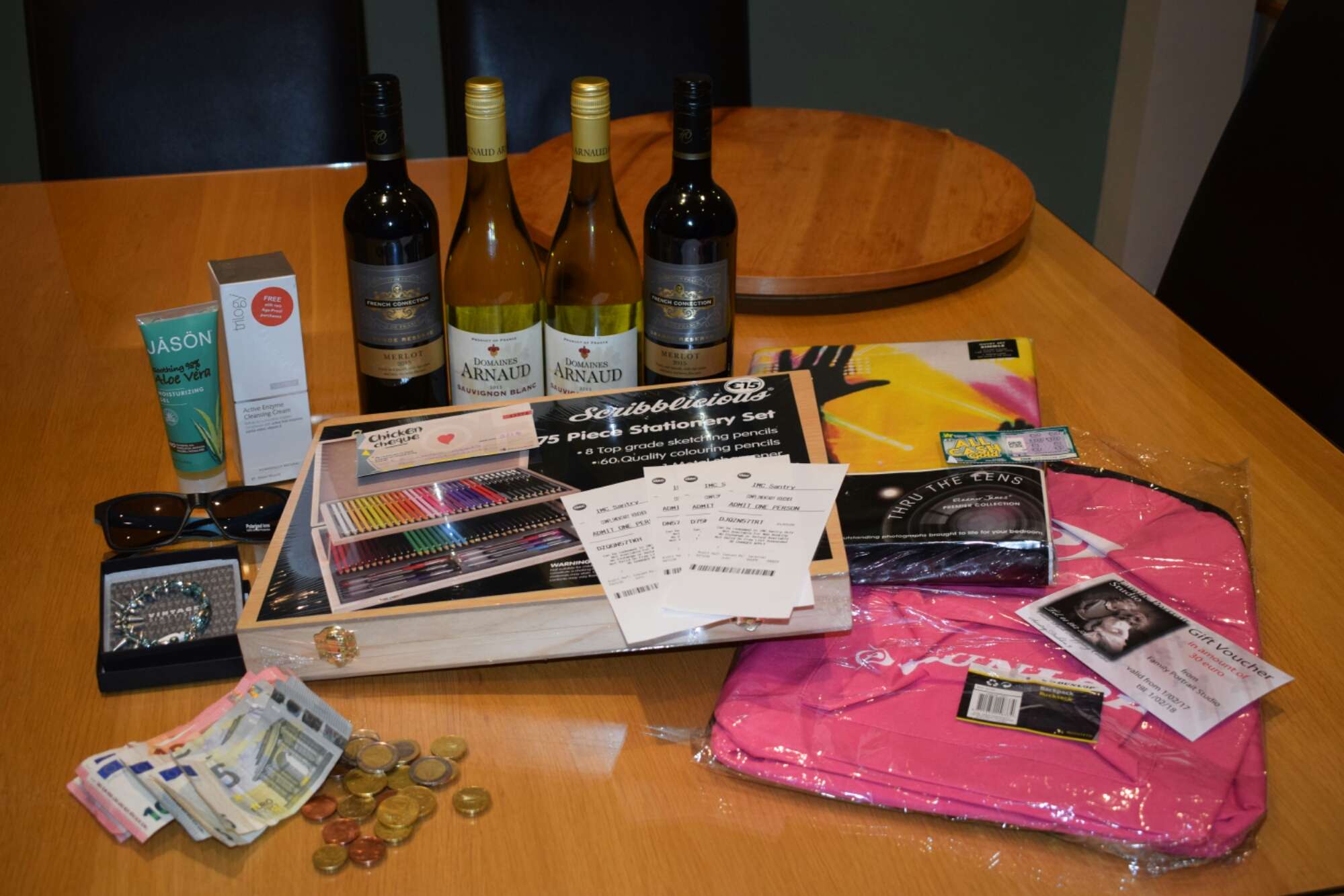 11am, College Bar, Dublin City University campus, 110 students set out on the Race to Rome. We scrounge a lift off one of our friends along with another team and get to Dubin airport. The moment we got there we set our plan into action. The frist checkpoint was Tower Bridge in London. We approached airline companies but the cheapest flight to London was 174euro for the two of us. We only had 50e and a crate of Red Bull. For the following hours we initiated conversation after conversation with souls from all walks of life, eventually scrambling together enough money to get to London. Although a few hours behind other teams, we were confident that we could make up for lost time.
We didn't stop chatting to people and by the time we touched down in London Gatwick we had raised more than enough money for our London leg and the concentration was on getting to the continent. However, we had to get our picture at Tower Bridge. Currrency exchanged, train tickets bought, we were on the train to London. Overhearing our conversation a London based Irish woman kindly offered any assistance necessary. Picture taken at Tower Bridge we were given our next checkpoint – Il Duomo, Milan, Italy.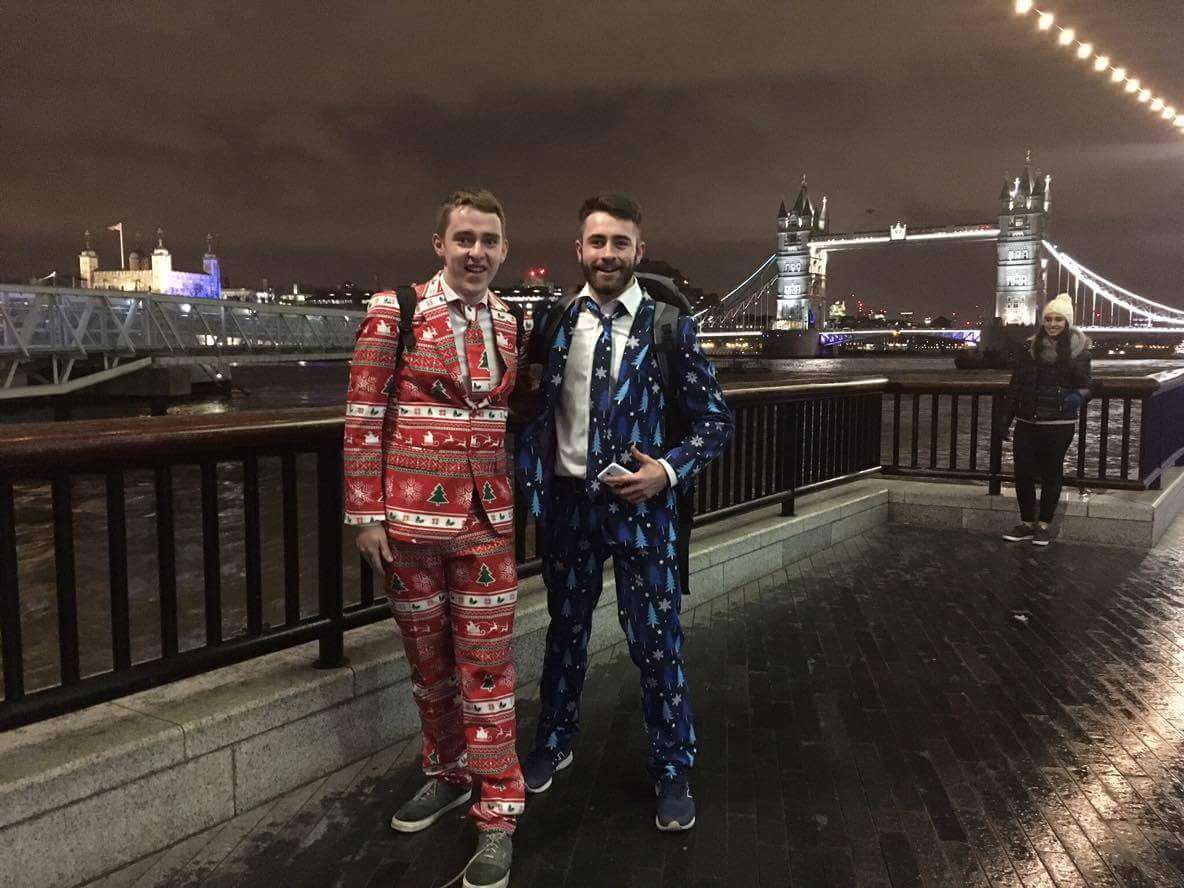 Rothco, an Irish advertising agency replied to our cry for help on Twitter and offered to fund some part of the journey. We collectively decided that a late night flight to Paris was better than stagnation in London. This proved to be correct.
Bumping into other teams who were to be stranded in London for the night we realised that we had a great opportunity to get a step ahead. The lovely Vueling airhostesses had a glint in their eyes when they saw the suits and after hearing our story they were nearly prepared to fly us straight to Milan. The Head Steward offered us the use of the PA system which we grabbed with eager hands. Speech given, 33 rows walked, we had 200euro in a mixture of currencies.
In communication with contacts back in Ireland we concluded that our best bet was to catch the 06:50 flight to Milan. Arriving in Paris CDG at midnight we had 4 hours to kill. The Eiffel Tower called us. The call was answered by a couple from London who crammed us into their UBER. Upon reaching their destination they negotiated with the English-less taxi driver to drop us to the Eiffel Tower. This proved to be the unofficial bonus checkpoint on our journey.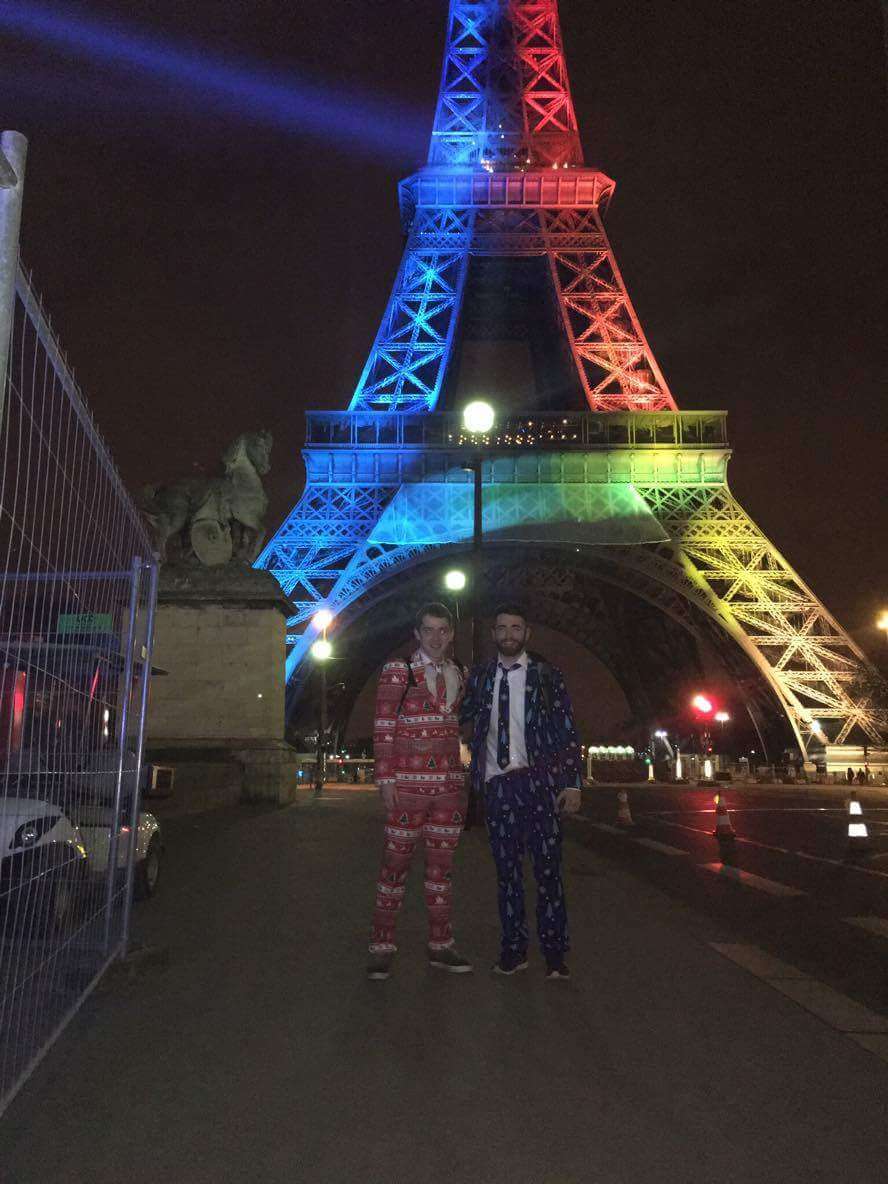 Thousands of steps, two hats and multiple requests for directions later we were on our way back to CDG. A nearly desolate flight to Milan Malpensa was the time to get some much needed rest. We realised that if we were to be successful, the Duomo would have to be treated like a Formula 1 pit-stop, maximum efficiency. Train, metro, metro, Milano Centrale. Our last cents were spent and before we could blink we were on the high-speed train to Rome.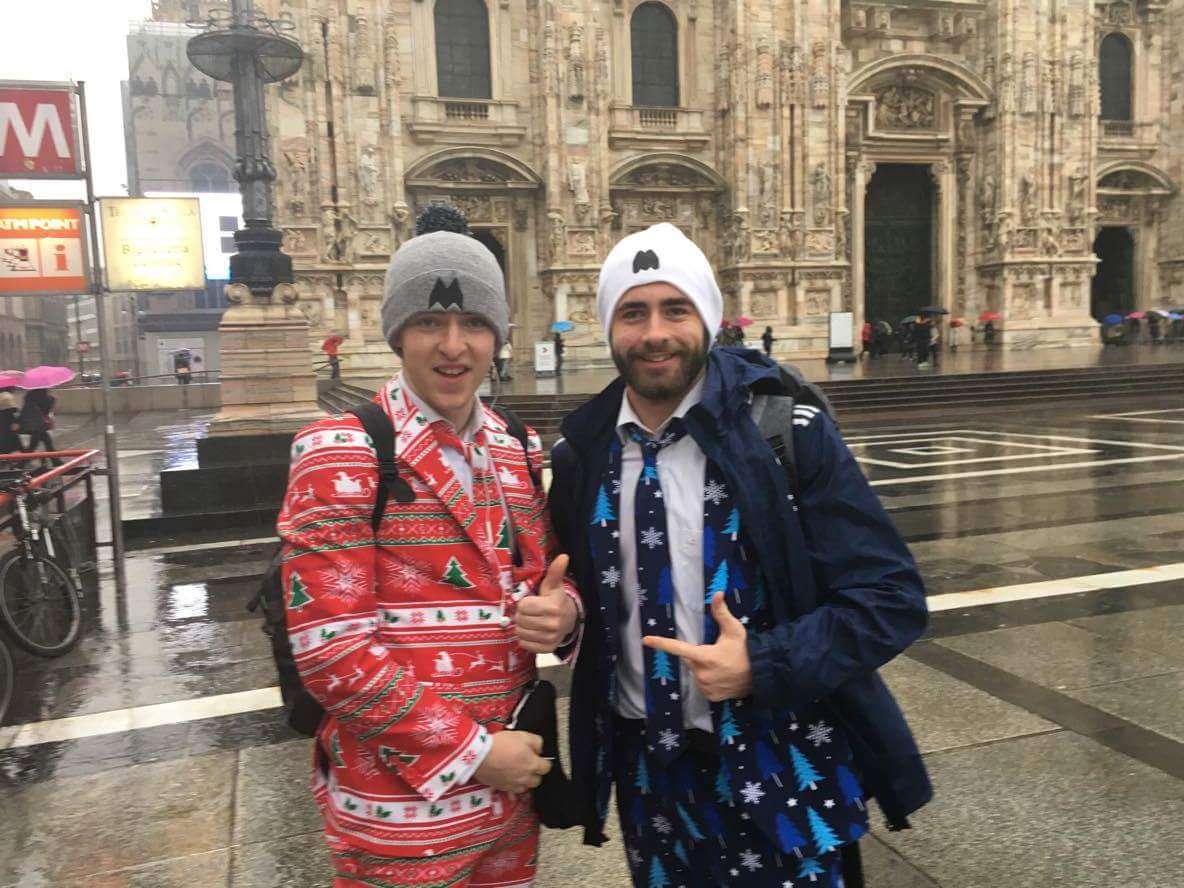 Waking up arriving into Roma Termini it took us a few moments to get our bearings. At this stage we had been on the road for over 24 hours and definitely looked like we had been, to say the least. Perhaps this may have contributed to Rome being the city where the suits produced the most exuberant reactions. These reactions gave us the burst of energy needed to trudge to the finsih line at the tourist saturated Trevi Fountain.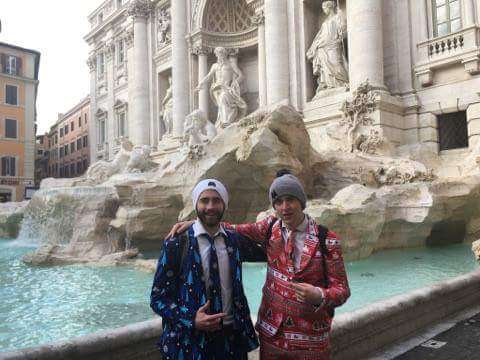 What a world we live in. We had no money to get from Dublin to Rome via 2 checkpoints. In the end we managed to get to an extra city, put smiles on people's faces, push oureselves, raise money for charity, and hopefully inspire others to get out of their comfort zones and embrace the wonderful world that we live in.
As one adventure ends another begins. Stay tuned for the next one very soon!
Some pics from the trip